Re-imagined
Inspirations for Mixed Media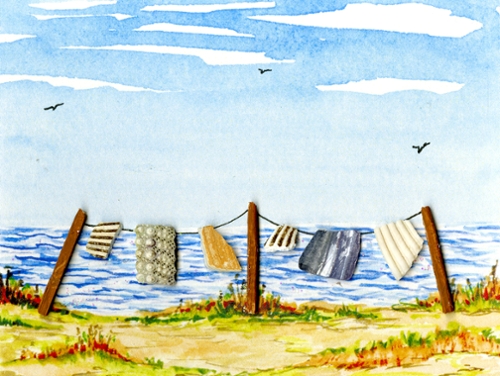 I love telling the story of how my mixed media line, "Flight of the Imagination" began. Glen and I were on our first trip to Prince Edward Island, combing the beach for treasures in a National Park near Stanhope. There were miles of sandy beaches to lose ourselves, our worries, and all sense of time in. I found myself picking up small pieces of shells asking Glen "doesn't this look like a little beach towel... a sheet.... a skirt.... pair of trousers?" The shells on PEI look familiar to those back home and yet, at the same time, different in their patterns, colors, textures, and broken shapes. I think there must be some way the shells are tumbled differently on PEI but I can't say how.
While continuing beachcombing, with a pocket full of shell garments and linens, I got the idea to create a prototype for a new design. I imagined that I would paint a backdrop in watercolor, use pieces of toothpicks as posts, and arrange shells to look like laundry blowing in the salt air breeze. I painted the view from Blueberry Cottage, the first place we stayed on PEI. The cottage sat on a small cliff with the Atlantic Ocean at its base and terns, gannets, and gulls above. From our cottage, we walked across a 'lawn' that had patches of red earth poking through, wildflowers and wild grasses in muted and vivid shades of coral, plum, peach, ochre, umber, maize, and sage. A proverbial paradise for this watercolorist and a great palette for my imaginary laundry line scene.
The watercolor on my homepage and the other choice for the backdrop of a laundry line was a bucolic farmhouse we saw en route to the parabolic dunes in Greenwich. I asked Glen to stop the car so I could sketch the property, do a couple of watercolor studies, and take reference photographs for when I got back home to the Milk Barn Studio. The farmhouse, though old, looked loved and taken care of with its fresh coat of paint, shiney roof, and sparkling windows. Between the house and the garage and barn, laundry danced as it dried. The doors on the garage and barn were painted a scarlet red making every blade of grass pop out of the sloping hillside that led to a pond. The clear water rippled with reflections of cattails, reeds, and grasses.
There are many things I love about being an artist. I love studying the masters, both past and present. I love taking risks with new techniques and mediums. I love being inspired to create something new while learning from the old. And, it might sound corny, but I've grown to love the failures as much as the successes because woven within are the teachings that truly matter. But, among all these things and more, perhaps the thing I love most are the opportunities to re-live moments in a multi-sensory memory of beauty through paint.
*I have put the beach laundry line on sale for the month of March as well as the little girl bracelets.
Posted: to General News on Sun, Feb 28, 2021
Updated: Sun, Feb 28, 2021