Holiday Pop Up and Open Studio
December 3, 2022 10-3 (rain/snow date December 4, 10-3)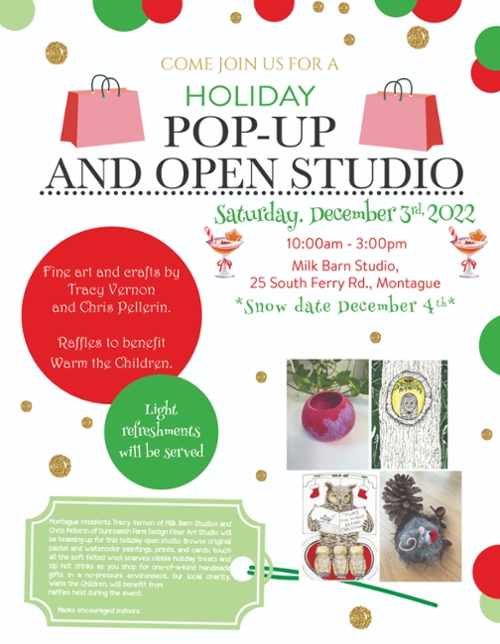 The holiday season is upon us! Due to the success of last year's Holiday Sale and Open Studio, I've decided to host another one. Only this year brings extra cheer with the inclusion of my dear friend Chris Pellerin and her wonderful hand-felted, one-of-a-kind creations. Her felted clothes, jewelry, 2-D and 3-D art are of exceptional quality and resplendent in color. She is a friend I respect highly and when she asked if she could join me this year for my holiday sale I was elated!
We will be holding raffles with our original creations to raise money for Warm the Children which is an amazing non-profit. Check out how cool this is (pulled right from their website):
Warm the Children is a family of 27 non-profit organizations whose missions are the same: providing new winter clothing and footwear for their community's neediest children. All 26 organizations are IRS 501 (c) 3 tax-exempt.
The recipe for Warm the Children is simple: A local newspaper and/or a service organization (like a Kiwanis or Rotary Club) asks its community for monetary donations to be used to purchase new winter clothing and footwear for local children in need. Families to be served are identified by local social service agencies or public-school personnel.
All dollars received go to the children; sponsoring organizations absorb all administrative expenses.
The shopping is done either in person at a local retailer or online. For shopping in person, volunteers meet and assist the families as they shop and during check out. The family leaves with their new items.
For online shopping, families make their selections from a preapproved retailer. Warm The Children submits their order and their items are shipped directly to their home free of charge.
All purchases are paid for with donated dollars.
We will have lots of yummy refreshments too including warm spiced cider, gingerbread cookies, gluten free and vegan delights! Please join us in celebrating the season. I'm looking forward to the warmth of our community coming together. In the case of inclement weather, we will postpone to Sunday December 4. Same time frame - 10-3. See you there/here:)
Posted: to General News on Sat, Nov 5, 2022
Updated: Sat, Nov 5, 2022